Click for details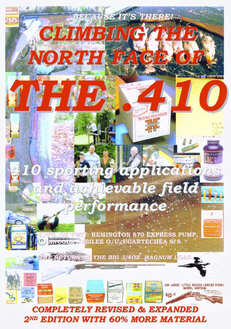 Because it's there!
CLIMBING THE NORTH FACE OF THE .410

Tim Woodhouse
2nd massive, fully revised and extended edition.
10 new chapters , 60% more material.
Every possible aspect of shooting the .410 is extensively covered.
Game, Sporting Clays, Skeet, Mini FITASC, Cartridges, Reloading, Shot sizes & hardness, Chokes, Wads, History, Extensive Shot performance, Velocity, Energy & Penetration charts, Gun tests: Over & unders, side by sides, autos, pumps, shot pistols, Comparison with the 28bore.The 'lost gauges' of 32 & 24 bore and much more.
Further details here
---
---
USA Customers:
Carol Barnes
Gunnerman Books
P.O. Box 81697
Rochester Hills, MI 48308, USA
Phone 248-608-2856 VISA and MasterCard accepted
e-mail:gunnermanbooks@att.net


---
Also available from ..
Paul Morgan Old & New Books on Fishing & Field Sports
Coch-y-bonddu Books, Machynlleth, Wales SY20 8DJ, U.K.
UK Tel 0870 300 2004 From overseas +44 1654 702837
UK Fax 01654 702857 From overseas +44 1654 702857
email orders@anglebooks.com http://www.anglebooks.com

American & British 410 Shotguns
Ronald S. Gabriel


Hardcover 208 pages.
Publisher: Krause Publications
ISBN: 0873496795
Representing the culmination of 30 years of research, this book catalogues the 125-year developmental history of the 410 in both Britain and the United States. Coverage includes makers such as Browning, Ithaca, Winchester, Boss, Holland & Holland, Purdey and others.

Amazon.com
Amazon.co.uk