.410 Shotguns
The choice in .410 shotguns seems a little limited compared to its 12 bore larger brother, though many makers have made (if not still do) .410 shotguns.
You can find Holland and Holland, Boss, Cogswell and Harrison .410s (if you are lucky, or rich) though you are more likely to come across one of the many older (or not so old) single and double barrel Belgium and Spanish folding shotguns (enquire at your local gun shops). The doubles being of more use on a 'Clay' layout.

The 'older' guns also include the likes of the BSA and Webley bolt action single barrel guns which are great fun to shoot.
Some old military rifles have been 'bored out' to produce .410 bolt action shotguns, an example being Enfield SMLE etc.
If you wish to venture into the word of reloading or like to use the heavier 'magnum' 3 inch cartridges, Ensure that you get a gun chambered for 3 inch cartridges.

Many of the older guns have 2.5 inch chambers and can not be used with 3 inch cartridges!
| | | |
| --- | --- | --- |
| The Combination guns are here | | |
| The Pistols are here | | |
| Semi Auto/Pumps are here | | |
The following are some of the modern/available(?) .410 shotguns (List under construction .. )
For Interest .. Welcome at Consorzio Armaioli Bresciani
Over / Under
Beretta

A number of Berettas top notch guns can be obtained in .410 (e.g S687EL, SO9)

UK Importer/Distributer GMK Tel 01489 579999

.410 Bore Feather XS Citori Shotguns

Small-gauge competitors need not sacrifice a single one of the features found on the top sporting clays shotguns. The Feather XS in .410 bore breaks clays with all the authority of its siblings.
but..........
"In reply to your e-mail, Unfortunately, we do not import any 410 guns into the UK.
Regards Browning Sports UK Ltd. "

Concord

Conquest - "I bought a new gun on Monday, a 'Concord Conquest' 410 o/u, for £395. (May 2006)
At first look it is quite well made, and feels really nice when held.The action is true 410 size, but it is heavier than expected.It has 27.5 inch barrels according to the sale sheet,3" chamber, non-ejector, non-selectable trigger, but according to the shop, it is fitted inside for a selector, so a decent gunsmith should be able to convert it if you want that option.Choked 1/2 and full.Non-automatic safety."

It is much better quality than the Investarm, and I think it is far better than the same priced (£400) Yildiz S/S.I bought it from Rugby Gun Shop:
http://www.gunshoprugby.com
who say they have sold a few of these.They are imported by Nickersons, but there is no other markings on the gun, apart from 'Conquest' on the side of the action, and the 'Germany' stamp and proof mark.Apparently the maker is called 'Concord'
A.Lee

We cant find any manufacturers info on this gun, thanks for the info Alan.

Effebi
Lux - On customer's request single Trigger – Briar effect – Rib cab – Receiver color cased
Standard

Falco

Over / under ELI, in 410 gauge. Manufactured with single trigger and automatic safety. Stock and forend in highly polished walnut. Barrel lengths s 65/70. On customer's request we can make different kind of working on the standard model: walnut stock and forend - rib cab - rubber pad - gold color trigger - chroming - folding/not folding - coloration - single trigger - polished barrels - receiver color cased.

Available in the UK from Ladds of Crediton 01363 772666

Investarm

Folding & None-folding over&under 3" chambered Single trigger shotguns

Investarm spa Via Zanardelli, 210 Tel. 8960105 25060 Marcheno (BS) Fax. 861285

Lincoln

Lincoln Premier .410
Fixed choke, auto ejectors, chokes half and full.

John Macnab Ltd.

Lowlander

Action:

Boxlock

Trigger:

S.S.T.

Rib:

Ventilated

Weight:

5 lbs 8 oz

Stock:

14in

"John Macnab has to be congratulated on introducing a smallbore of decent quality at an affordable price."
Jason Harris
Sporting Gun

If you're a first time buyer, or someone looking for a good second gun which provides outstanding value for money, then the Lowlander is the ideal solution. Cost effective and highly capable, it has little competition.
The distinctive Macnab characteristics are never far away, with its excellent balance and handling qualities the Lowlander takes its rightful place in our range of guns.

The Highlander, with its "Boss" style hollow rib, the gun balances beautifully. With its elegant schnabel fore-end and semi-Prince of Wales stock, the Highlander sits in the hands purposefully
Website : John Macnab Ltd.

Rota Luciano

O/U Single trigger Ejector/None-Ejector

Available in the UK from Ladds of Crediton 01363 772666

B Rizzini
Single Trigger O/U
Rottweil
Single Trigger O/U, Browning bolted 28 or 30" barrels. Weight 6.25 llb, schnabel forend.
3" chambered, fixed choke (multi option). Semi pistol grip stock
Worth a look at!
try http://www.ruag.co.uk/
S.K.B.
Webley and Scott

.410, Junior Over and Under
Features a 26" barrel, Walnut stock with a Length of Pull of only 12.75" (324mm), low recoil .410 calibre, fixed choke, a weight of only 5.1 lbs (2.3 kg) and a 12 month warranty.

Technical Details
Style: Over and Under
Calibre: .410
Barrel: 26"
Length of Pull: 12.75"
Choke: Fixed Improved / Improved
Ejectors: No
Stock: Walnut
Birmingham Proof House proofed
12 month warranty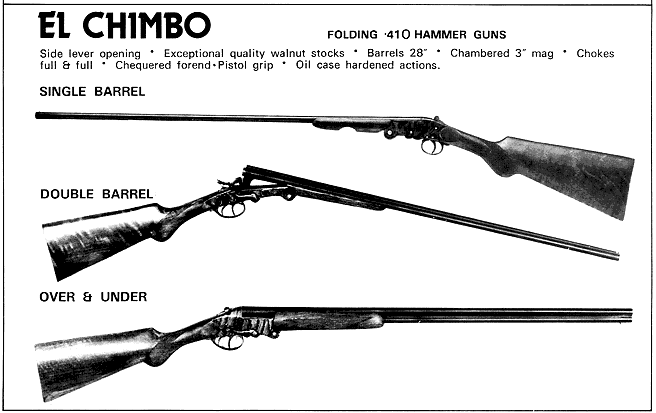 Side/Side
Arrieta
(Information)

Spanish Sidelocks
UK Importer/Distributer GMK Tel 01489 579999
AYA
(Aguire y Aranzabel)

Many of the AYA range of Spanish S/S are made in .410 (e.g N04,No3,No2,No1,No53)
UK Importer/Distributer ASI Tel 01728 688555

Baikal

IZH-43 Classic double locking system working on lumps via Purdey"s frame. Dependable automatic safety locks both sears and triggers offering a highly safe handling in hike or woodland hunt. Available with both fixed or screw-in chokes. Forend & stock material - walnut or beech. 3" Magnum proof.
Single Selective trigger ejector and Double trigger none-ejector.

Michael Yardley rates them! (Gun Mart Nov/2000)
UK - York Guns Tel 01904 487180 Fax 01904 487185

bretton-gaucher

See section below (Singles section) for UK Importer.

Effebi
Lux - Double barrel SxS
Standard

El Chimbo

Double trigger/Folding/Hammer, See advert above

Hi,
We believe the El Chimbo is actually manufactured by Parkemy (De Escopetas) or Aramas Parkemy Arms Parkemy proof mark "To P.M." is on our El Chimbo folding side by side 410 Regards B. (Thanks, Ed.)

Falco
Available from Ladds of Crediton 01363 772666
Fox
How about one of these American guns in .410?
Gunmark Kestrel
'Mini-Super' 12 mm/410 magnum (36) calibre. Triple lock
Lincoln
Single selective trigger, 27" barrels
Parkemy (De Escopetas)
Double trigger/Folding/Hammer 2.5"
Stoeger

Uplander - Caliber 410 Bore, Side by Side Shotgun. Features: 26" Barrels.
Coach Gun - Caliber 410 Bore, Side by Side Shotgun. Features: 20" Barrels Choked Improved Cylinder and Modified, 36.5" Overall Length, Weight 6.75lbs., Blued All Steel Construction, Solid Matted Rib, Oil Finished Brazilian Hardwood Checkered Stock and Forearm, Bead Sight, Dual Triggers, Extractors, Automatic Tang Safety.
Single Barrel - Caliber 410 Bore, Features: 26" Barrels

Sabatti
Mod. SABA - Mod. SABA Mon. - cal. 410 Side by side hammerless double-barrel shotgun with an improved version of the Anson Deeley action-mechanism.
Yildiz

YILDIZ SANAYI .410 BOXLOCK
Anson and Deeley boxlock, single trigger , top lever , scroll and border engraving.
Make in Turkey

UK - Entwistle Guns 01772 718048

Zabala

3" magnum , Double triggers, None Ejector.

UK - York Guns Tel 01904 487180 Fax 01904 487185
ALOOF and the Lever Action (Marshall Williams)
Marlin


An exciting new 410-bore that's ideal for small game and pests.
Based on a 410 shotgun we made over 70 years ago, the Model 410 is built around our 1895 frame.
It features a 22" barrel with a folding open rear, and a high visibility green fiber optic front sight.
The barrel is cylinder bore, and it fires all 2.5" 410 shells (only), including rifled slugs. Its walnut stock features a pistol grip, cut checkering, a blued steel forend cap, and rubber butt pad.
(No longer in production, 2009)

Winchester

The Model 9410 is the first production Model 94 action chambered in .410 bore. And it's the first lever action .410 in just about . . . forever.
With the Model 9410 you get everything that makes the Model 94 famous.
(No longer in production, 2009)

9410 Packer, All the great features of the award winning Model 9410 in a smaller package

At first glance you'll think it's a Model 94® rifle. But it's a shotgun inside: fitted with a smoothbore barrel and chambered to handle all current factory 2-1/2" .410 bore shotgun loads.

Also check out MCB's experience with the 9410

2 May 2002 :- Just to let you know that York Guns have the above gun in stock £600 inc vat.
I have just purchased one from G.T.Shooting for £475 inc vat. big difference in price.
TEL: YORK GUNS Tel 01904 487180 Fax 01904 487185
TEL: G.T. SHOOTING 020 8660 6843 (53 CHIPSTEAD VALLEY ROAD COULSDON, SURREY, CR5 2RB, UK)
Regards, Joe.
Singles
Baikal

IZH-18M-M Simple and reliable design of a barrel locking gear with a convenient unlocking lever arranged under the RH fingers. Extractor. Hammer-type firing mechanism cocked by unlocking lever features a clearly visible indicator for a status of cocking mechanism. Non-automatic cross trigger block safety. Splinter-type forend fastened by a swing-out latch allows quick stripping the gun for transit and in-field assembly. Available both with fixed or screw-in chokes. Options with a wide set of gauges - from 12/76 to .410. Forend & stock material - beech or tinted birch.
UK - York Guns Tel 01904 487180 Fax 01904 487185

bretton-gaucher

Bolt Action, Réduit le bruit d'une 410 Magnum à celui d'une 9 mm.

The Phanton G12 is a sound moderated bolt action single .410 . Handles 3" loads but subsonics are recommended to achieve quiet shooting

T & J. J. McAvoy Gunsmiths are the UK importers & sole distributors of the Bretton & Gaucher silenced fourtens & the unsilenced ones also

T & J. J. McAvoy Gunsmiths

01257 426129

3 High Street

Standish

Wigan

WN6 0HA

Falco
Available in the UK from Ladds of Crediton 01363 772666
Gunmark
Vangard
Hushpower

Fully sound moderated single barrel.

Available from the Saddlery & Gun room, Biggin Hill, Kent
01959 573089

Harrington & Richardson
New England Firearms

Both firms part of the Marlin stable.
410 Guns include
NEF - Pardner .410 (Available with .22 barrels) 26" barrel, 3" chamber, American hardwood stock.
NEF - Survivor .410/.45 LC , 20" barrel, 3" chamber , polymer stock.

H&R - Topper .410 , 26" barrel, 3" chamber, American hardwood stock.
H&R - Topper Junior (&Classic) .410 , 22" barrel, 3" chamber, American hardwood stock.
H&R - Tamer .410 , 20" barrel, 3" chamber , polymer stock.




Bolt Action
Norica
Bolt Action - 3 shot
Rossi

MODEL S411220S - 410 BORE BLUE SHOTGUN WITH WALNUT FINISH
Rossi Shotguns are the timeless single-shot break-open breech design updated with the most modern safety features. These youth-size shotguns are the perfect first shotgun for the younger shooter. All feature a spur hammer, transfer bar action and an integral linkage system that prevents the action from opening or closing when the hammer is cocked.

Thompson Center

Contender Carbine


Built from the same design as the Contender® Pistol, the Contender® Carbine features interchangeable barrels including a 45 long colt/.410 shotgun ( also available for the T/C Contender pistol in various lengths).

"TOZ"JSC
The shotgun TO3-119 of 12, 16, 20, 28, 32,410 gauges is intended for amateur and professional hunting. It is especially good for obtaining small fur-bearing animals and fowl
Verney-Carron
Snake Charmer


For hunters young and old, the Snake Charmer®II is an excellent little game getter. A careful hunter can easily take rabbits, dove and quail sized birds, squirrel and the like using medium power cartridges and 6 to 9 size shot. An experienced marksman, using the Snake Charmer®II field gun, can place six rounds of magnum .410 slugs into a paper plate at 100 feet in less than 30 seconds. This is a lot of firepower out of a four pound weapon.

Zabala
3" magnum folding