The CZ company is well known in the U. S. for its line of truly modern and innovative pistols starting with the, dare I say, "revolutionary" CZ-75, and its fine hunting rifles made on CZ's own version of the redoubtable Mauser Model 98 action. These guns receive the highest praise and deserve it. Now, however, CZ has expanded its line to include shotguns, very modern shotguns. The line includes autos, over-and-unders, and side-by-sides, and these guns, at least the two that I have examined and used, seem equally deserving of praise.
While CZ's rifles and handguns are made in the Czech Republic, the shotguns come from the Huglu firm in Turkey. I first saw Huglu shotguns about ten years ago at a gun show. My first impression was that they looked a great deal like they might have come from Italy's Val Trompia, especially the side-by-sides. They looked good, and I looked them over carefully. All were well made, well decorated, and, in light of their obvious quality, priced quite modestly.
Recently, I was pleased to be offered the opportunity to review CZ's new top-of-the-line over and under, called the Woodcock. I requested one in 28 gauge. However, when I went to CZ's website (www.cz-usa.com) to view their products, another gun caught my eye, a neat little .410 side-by-side called a Bobwhite. I promptly asked to be allowed to review both guns, a Bobwhite in .410 and a Woodcock in 28 gauge.
CZ's Bobwhite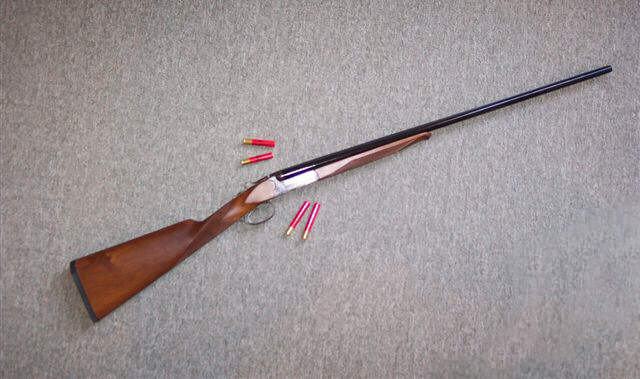 When I first began serious shot gunning, lo, those many years agone, I loved two things more than all others: I loved .410s and I loved side-by-side doubles. At that time, however, I never had a chance to combine the two, as side-by-sides were all but extinct, and the only ones made in .410, at least the only ones that I could afford, were Savage's Fox Model B and it's Plebeian alter ego, the Stevens 311. For a couple of years in the mid-60s I had on order a .410 Fox Model BSE, the single trigger and ejector version. It never came in and I moved on to other things. However, the little Bobwhite .410 might well be the gun that I really was looking for 40 years ago.
Lock, stock, and barrel:
CZ's advertising notes that all its shotguns are made on frames proportioned to fit the individual gauge. Many small bores are made by fitting small bore barrels to frames designed for something larger, usually a 20 gauge frame. The result, especially obvious in .410s, is a loss of grace and proportion around the receiver. Things just don't look right. Perhaps it is a little too much to ask that every maker produce both a dedicated 28 gauge frame and a dedicated .410 size frame, but when it happens, it is a very nice thing.
This wonderful feature is evident in both of the guns I received. The scalloped box-lock receiver on the .410 Bobwhite appears to be a perfect size for a .410 strikes me as a very nicely done combination of sound design scaled down to perfect size.
The CZ Bobwhite has the straight grip and double triggers. I am perfectly comfortable with both features, perhaps even preferring them on a hunting gun, but some people (Topper!) simply cannot get the hang of them. For such people, there is a second version called the Ringneck which is likely to be more popular. The Ringneck has a pistol grip, sideplates, and single trigger and is a step above the Bobwhite.
With its 26 inch barrels, straight grip, double triggers, and plain extractors, the little Bobwhite weighs just five pounds and three ounces on my kitchen scale. Barrels are of the "mono-bloc" persuasion, i.e., a gun maker fits a "mono-bloc" to the receiver. The mono-bloc takes the shape of the rear of a pair of barrels and has both the under lugs and the barrel flats made a part of it. After the mono-bloc is fitted to the action, it is bored for the barrels which are separate tubes and these are inserted and permanently fixed in place. The result is a very strong set of barrels which are accurately fitted to the receiver.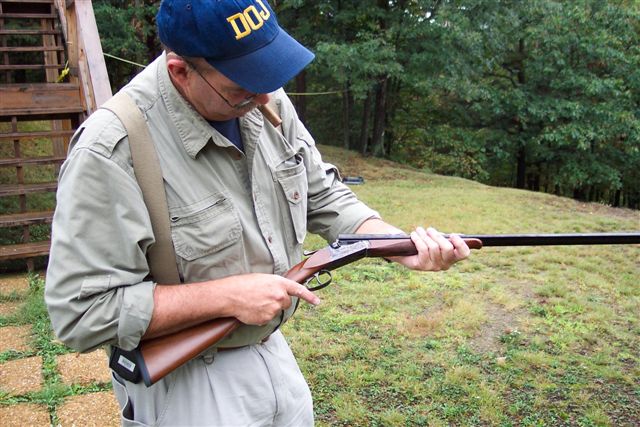 The top rib is a solid, straight, tapered, and flat with surface serrations to break up reflections. I liked it. The single bead is brass and approximately 1/8 inch in diameter. Chamber length is three inches, standard for the .410.
CZ offers choke tubes in all of its larger bores, but only fixed chokes are available in the .410s, and the only combination offered is improved cylinder and modified. In my view, this is an ideal combination for a .410. No amount of choke that can make a .410 into a long range gun, and open chokes make the .410 a much better short range gun.
I measured bore and choke diameters with a Baker Barrel reader and came up with bore diameters of .406 inches. The IC constriction was .008 inches and the modified choke constriction was .018 inches.
The barrels have hard chromed bores and chambers, and to my surprise, the exterior of the barrels is not blued, but black chromed. The finish is very smooth and dark and quite attractive. I suspect that the black chrome will outlast conventional bluing, especially where it comes in contact with the hands.
The Bobwhite is an extractor gun and CZ currently does not offer ejectors as an option on any of its 28 gauge and .410 bore guns, whether side-by-side or over-and-under. That probably saves a couple of ounces of weight, by the way.
Balance point on the tiny Bobwhite is almost exactly one inch ahead of the hinge pin. I found the little gun to have excellent swing and follow-through characteristics. The top tang safety is conventionally located under the thumb and is not automatic.
The receiver is case-hardened and nicely engraved in a simple scroll pattern . The basic box lock action is simple and sturdy with double under lugs. It locks up tight.
The standing breech has small vent lines incised in its face to take care of gases in the event of a punctured primer. Such gas vents probably are no longer necessary, but once were a common feature on quality guns. Their presence raises my already high opinion of the CZ guns by one small additional notch.
The stock and fore end are made of good quality walnut, doubtless Turkish, with some figure. The grip surfaces carry large areas of well-executed hand-checkering running about 18 lines to the inch. The wood is fitted "proud," that is, it stands slightly higher than the metal. Many gunmakers follow the practice. There were one or two very minor gaps where the stock met the scalloped frame, but over all, I considered the fit and finish to be acceptable.
The fore end is neither a splinter nor a beaver tail. It is large enough to provide both a good gripping surface and some protection from the heat of the barrels. There is a small schnable at the tip.
Those who prefer pistol grip guns criticize straight grips for allowing the gun to twist in the hand, noting that a pistol grip prevents that. CZ's straight grip Bobwhite addresses this problem by having the cross-section of the wrist in the shape of a long oval. This is one of two traditional English solutions (the other is a diamond-shaped cross-section.) and it offers a very firm grip.
The essentially English stock has quite high comb dimensions. In fact, the stock dimensions tell me something quite different from what I feel in handling and shooting the gun. The drop of comb measures just 1 3/8 inches at nose and only about 1 5/8 inches at heel. Length of pull measured from the center of the butt to the middle of the bow in the front trigger is a long-ish 14 ½ inches. Down pitch is about two inches. The stock has a small amount of cast off, possibly half an inch and the toe points outward slightly.
Such dimensions should make the gun shoot high, but when I cheek the gun, I find myself looking exactly where I want to, right up the center of the rib. There is a certain amount of black magic involved in stocking a gun, subtle things which are not easily measured mean a lot in gun fit. This gun has such a stock. I found it very comfortable and, more to the point, well shaped to use.
The butt plate deserves special mention. The butt plate with pad is about half an inch thick and is hard and smooth at its top, (i.e., the "heel"). This permits one to easily raise the gun to shooting position without the butt catching on the shooter's clothing. However, the face of the pad is a soft and tacky insert. It will not slip once the gun is in place and provides some recoil absorption. It strikes me as a very good design for field or sporting clays. (Or an old-fashioned Skeet shooter like me who still uses a low gun when calling for his target.)
My first shooting with the little gun was at pattern sheets. I no longer do serious patterning at 40 yards seeking some ideal number of pellets in a 30 inch circle. Instead, I now do my serious patterning at 20 yards, and if I count pellets at all, I count those in a 15 inch circle. I want to see where the center of the pattern falls and whether the patterns look OK for the chokes. Both barrels centered nice round patterns exactly at the top of the single brass bead. I could not ask for more.
With a manufacturer's suggested retail (MSRP) price of just $869 in Bobwhite seems a bargain indeed. The higher grade Ringneck with fully engraved side plates, round knob pistol grip, and single trigger, carries an MRSP of $1045. For those who do not love .410s, both models also are available in 12, 20, and 28 gauges. A third variation aimed at the Cowboy-style action shooters is available in 12 and 20 gauges with 20 inch barrels but still fitted with interchangeable choke tubes. With double triggers it the Amarillo and with a single selective trigger, it is the Durango. Both versions have pistol grips and an MSRP of $695.
CZ's Woodcock
While the little .410 was my first love among shotguns, the 28 was my second. In about 1965, I bought my first 28 gauge shotgun, an old and battered Winchester Model 12 with 28 inch full choke barrel. I found it rusting away in a corner of a second hand store because no one knew where to get shells for it. I did and bought the old gun for just $20. After restocking and refinishing, it became one of the two or three best shooting shot guns that I ever owned. (And I have owned a lot of good-shooting shotguns.) I used it for everything, including shooting crows at long-ish ranges. Naturally I wanted to see CZ's new 28 gauge Woodcock.
The Woodcock is the top end of CZ's attractive line of over and under with enough excellent features to suggest that it can compete with the best for a niche in the highly competitive over and under marketplace.
As noted above, CZ's advertising states that all of its shotguns are made on frames proportioned to fit the individual gauge and the 28 gauge Woodcock's frame certainly looks to be appropriately proportioned. for this increasingly popular gauge. Indeed, if I had not just spent a week with the .410 Bobwhite, I would call the Woodcock dainty and svelte.
The little CZ Woodcock combines a very sound box-lock design with most attractively proportioned and decorated side plates. The receiver and sideplates are color casehardened. The action locks up by a single large underlug. As was the case with the Bobwhite, the Woodcock's standing breech has the small vent lines incised in its face to take care of gases in the event of a punctured primer, a very nice, if somewhat old-fashioned, feature, but one denoting quality and attention to detail. The top lever is decorated with a two-headed eagle, a device that could honor either the Czech Republic or Turkey. Or something else.
The 28 inch barrels of the test gun exhibit the same smooth dark chrome finish outside and the hard chrome interiors that mark all the CZ shotgun line. The side ribs joining the barrels are ventilated for improved barrel cooling. The ventilated top rib is straight and imperceptibly tapered. Muzzles are drilled and tapped for interchangeable chokes, and the barrels show an obvious flare to accommodate the choke tubes. The flare is not noticeable when sighting the gun, and probably enhances forward weight distribution by a tiny amount. Certainly the gun swings smoothly.
Five (5) choke tubes come with the gun. Each tube's constriction is designated by the number of notches cut into its forward edge. These are: I - full; II - Improved modified, III - Modified; IIII - improved cylinder; and IIIII - cylinder. My Baker Barrel Reader showed bore diameter of .546. The choke tubes had inside diameters ranging from .544 for cylinder to .526 for full.
The Woodcock stock features, what else, good quality Turkish walnut and has modern competition gun dimensions. Drop at nose of comb is 1 3/8 inches; drop at heel is 2 1/4 inches; and length of pull is 14 ½ inches. There is no apparent cast and down pitch is about 2 ½ inches. I thought the length of pull was a trifle long, but my wife did not. Both my wife and I found the stock comfortably proportioned which, considering how much bigger I am, says quite a lot. (See the stock dimensions and black magic remarks above.) We both found ourselves looking up the rib towards the single large brass bead near the muzzle.
The pistol grip is of the round knob variety that many shooters automatically associate with the Belgian Brownings. The resemblance is indeed close, but I would point out it was popular on shotguns long before the Superposed appeared. It often was a called a "Prince of Wales" design on English guns because Prince Albert favored it. On earlier American guns it was simply called a half pistol grip.
The Woodcock's butt plate is the same design described above for the Bobwhite. As noted, I like the design a lot.
With its 28 inch barrels, pistol grip, single trigger, and plain extractors, the little Woodcock weighs just six pounds and four ounces on my kitchen scale and balances one-half inch ahead of the hinge pin. The top tang safety is not automatic and serves as barrel selector. It works in a manner similar to Browning's selector, the shooter moves the safety to the "on-safe" position and then slides it to one side or the other to choose which barrel shoots first. The single selective trigger is a mechanical design, and no recoil is necessary to reset it.
The 28 gauge and .410 bore Woodcocks are plain extractor guns but 12 and 20 gauge guns are fitted with ejectors. I object on principle to such a fine little over and under not having ejectors, but I imagine most owners will use these guns for clay target shooting where ejectors are a bit of a nuisance.
Chamber length is the standard 28 gauge length of two and three quarter inches. Balance point on the Woodcock is one-half inch ahead of the hinge pin and I found the little gun to have excellent swing through characteristics.
I patterned the 28 gauge at 25 yards using Winchester AA Skeet loads with 9s. Patterns were well rounded and well centered. Coverage with the number 9 shot was excellent.
I would point out that 28 gauge guns have a potential not appreciated by most shooters. The standard 28 gauge shotgun shell is loaded with 3/4 ounce of shot at either 1200 fps for Skeet or at a 1295 fps for game shooting, and those two loads seem to be the only ones that get any attention. The shot charge can be increased substantially and with good effect, and Winchester offers a 28 gauge magnum shell containing one ounce of shot at a nominal 1125 fps. These shells essentially equal the one ounce loads found in 12, 16, and 20 gauge guns. Reloaders can find reloading data for intermediate shot charges of 13/16 ounce and 7/8 ounce of shot. With increased shot charges, and more widely distributed shells, the 28 could come very close to being an all around shotgun for anyone not trying for waterfowl at maximum ranges.
With a manufacturer's suggested retail (MSRP) price of just $1056, the Woodcock line is noticeably less expensive than entry level Berettas, Brownings, and Rugers. The basic design is available in 12, 20, and 28 gauges and .410 bore. Other variations of the design are available with prices starting as low as $475 for a plain hunting gun with double triggers and plain extractors.
The CZ guns are very attractive guns and are available at very attractive prices. While I may have prejudices about what I like on a gun, I have no reservations in recommending either of these fine guns.
Shooting the guns:
The Major came and spent this past weekend with me. Now the Major is my very good friend and fellow member of ALOOF, and we have shot together regularly for about 20 years. Nevertheless, for some unfathomable reason it appears that he never was with me when I was shooting a .410, nor had he ever shot one. Obviously that had to be remedied and it was a golden opportunity.
We always try to get in some sporting clays shooting or trap shooting when he is visits, but rains prevented us going out to the professional set ups. Fortunately, during Saturday afternoon, we got some breaks in the rain so I set up a Do-All trap close to the basement door, in case the rain came again, and we shot informal clay targets.
When I showed him the little guns, he seemed as much taken with the .410 as I had been. In fact, he was like a kid in a candy store. On his first double he neglected to switch triggers, but one lesson seemed to be all it took. After that he never forgot it. And he shot the little gun well, getting very solid breaks out to about 35 yards using a variety of shells. Even the little 2 ½ inch target loads containing a half ounce of 8s or 9s gave solid breaks out to 30 yards. One should not argue with success, but one might sensibly think that these ranges stretched the little gun's capabilities. Certainly the little gun's stock was well suited to the old man and he is bigger than I am. I threw targets for him until we ran out of .410 shells. Then we shot the 28.
The little 28 gauge Woodcock showed all of the excellent handling and shooting qualities that I had expected, targets were shattered with consistency as far as we should have shot clay targets. The Major shot the little 28 very well and praised its handling and shooting qualities. However, I think he showed less enthusiasm than he had shown for the .410; some of the gleam had gone out of the Major's eye.
Afterwards as we discussed the matter over a Grolsch and a game of pocket billiards, he said that the .410 was much more fun. The 28 gauge was like his other guns and he saw little difference. Then he tried to buy the Bobwhite from me.
The Major is not the first shot gunner to discover that the little 28 shoots a lot like the larger bores. He may be the first to discover that and prefer the .410 anyway.
---
Winchester's new line up of .410 shells.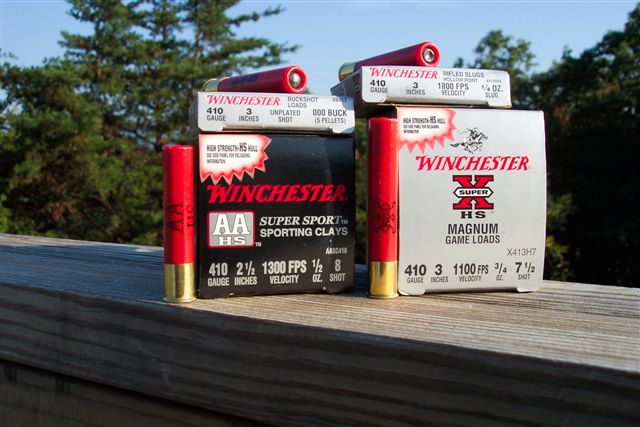 Earlier this year I made note of new Winchester offerings in .410. These include a three inch shell loaded with 3/4 ounce of shot at 1100 fps, the first such load since about 1969. Shot choices are 4s, 6s, and 7 1/2s. Personally I wish they would add 8s or 8 1/2s for greater pattern density. There is a three inch slug with a weight of 1/4 ounce, a three inch shell loaded with five triple-ought/OOO (.36 caliber) buckshot, and finally, a high speed 2 ½ inch Sporting Clays load with an extremely high velocity for a .410 -- 1300 fps and a choice of shot sizes 8s and 8 1/2s. The 2 ½ inch Skeet load with ½ ounce of 9s remains at 1200 fps.
I had not had an opportunity of trying any of these loads except the 000 buck shot load. Therefore, when I discovered that I would be testing the CZ Bobwhite in .410, I requested some of the new ammo to use in preparing this article. Winchester kindly sent me a few boxes of each load, and it did not disappoint.
As a matter of general principle, I do not chronograph shotgun shells; I don't have a proper chronograph for a shotgun pattern and the results with the one I have can be misleading. However, in preparing this article, I decided to go against my better judgment and chronograph both the new Winchester loads. For comparison, I also chronographed some Winchester AA Skeet loads and Estate three inch shells. I chose the latter two simply because I had them on hand.
In general, the chronograph did not disappoint. The 1100 fps Winchester 3/4 ounce shell was 35 fps slower than the 1135 fps Estate three inch shells. The old Skeet loads were right under 1200 fps while the new Sporting Clays loads actually were about 1320 fps, 20 fps faster than advertised.
All shells patterned very nicely in the little Bobwhite, but the new three inch shells with 7 1/2s patterned tighter than the other loads, all of which used smaller shot. I am confident I could do very well with Winchester's new three inch .410 on birds or small game.
The only problem with the small bores is the cost of the ammunition. One of my local dealers had the new 3/4 ounce loads on his shelf at a retail price just over $13.00 a box. When one can buy 12 and 20 gauge shells for under $4.00 per box, it is a strong argument against the little guns.
---
Reprinted curtesy of Shotgun Sports Magazine, P.O. Box 6810, Auburn, CA 95604. www.shotgunsportsmagazine.com