The Major was ordering some cheap 20 gauge shells when he saw a sale on American Tactical Imports .410 slugs and asked the Judge if he wanted any. Well, cheap is always good, so the Judge said, "Of course I do."
When the shells arrived, they were packed in 25 rounds boxes with the ATI logo prominently displayed on top and at sundry places around the sides, however, the box also says "By YAF Corporation," and "Made in Turkye [sic]." In small hard to read letters, gold on gold, the box also said "2 ½ inch 0.26 oz. Maximum" and "Muzzle Velocity 1900 FPS." That would result in a muzzle energy exceeding 920 ft. lbs.
For comparison, the traditional American Foster style slugs weighs 1/5 oz and has a muzzle velocity of 1830 fps for 650 ft. lbs. of muzzle energy.
There are other .410 slug loads that are somewhat more powerful than the old standard. Winchester offers a three inch shell with a ¼ ounce slug at 1800 fps for a muzzle energy of 788 ft. lbs., and Brenneke offers two loads with slugs weighing ¼ ounce, a 2 ½ inch slug with a muzzle velocity of 1500 fps for a muzzle energy of 588 ft. lbs, and a three inch version at 1755 fps for 781 ft. lbs.
From this we can determine that if the ATI slugs live up to their catalog ballistics, they would be more powerful than the others.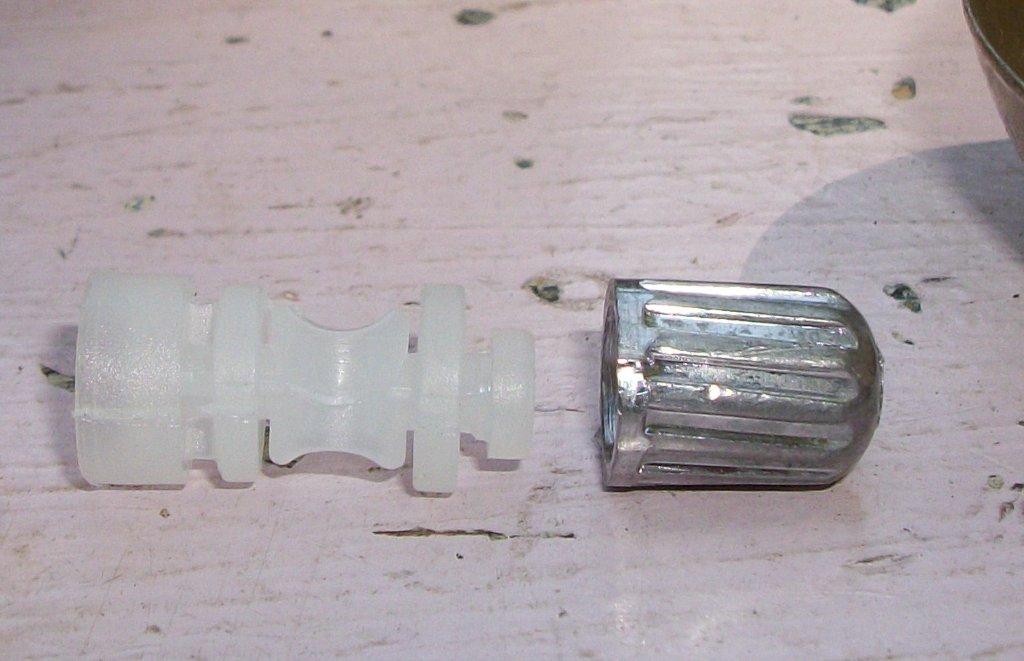 The ATI case is a modern plastic one piece design 2 ½ inches long with a steel head and ribbed sides, and uses an ordinary battery cup primer. The slug is held in place with a deep roll crimp.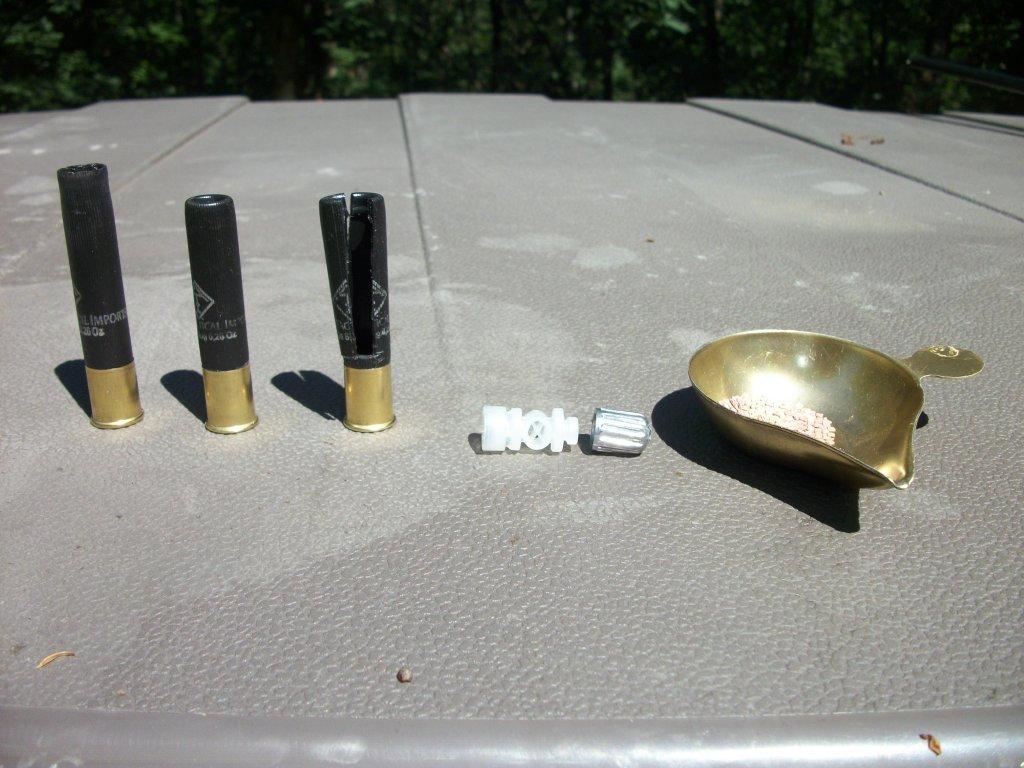 L-R, a fired shell, an unfired ATI slug load, a section shell, the neat little wad, and the stout little ATI slug. Pan filled with 13 grains of pink square flaked powder. The ring around the slug's base measures .410 inches in diameter and the front end measures nearly as large. No doubt the sizing contributed to the excellet accuracy. The neat wad has a post which almost exactly fits the slug's hollow base

I cut apart one shell to see what was inside. The slug is hollow based and similar to a Foster slug, but both the nose and skirt appeared thicker. It weighed right at 115 grains, and right at .026 ounces. The wad was a neat one piece affair with a neatly formed cup for over the powder, a circular midsection to compress and ease the forces on the base of the slug. A thick post on the front end fits into the hollow base and appears made to prevent the slug from collapsing. In fact, it appears to stay with the slug which made me wonder whether the forces of firing compress the slug around it and bond wad and slug together.
The powder charge weighed 13 grains, but its appearance would surprise American shooters. Well, me anyway. It was salmon pink and the flakes were flat and perfectly square. I have seen similar powders, but all were made in Europe. I believe this is a Vectan powder. It burned cleanly leaving no significant residue, a good indicator that it was well balanced for the load.
I shot three of them over chronograph using a Remington 870 pump shotgun with modified choke and 25 inch barrel. Velocity averaged 1856 fps at ten feet, which corresponds remarkably close to the advertised muzzle velocity of 1900 fps. Energy at ten feet would have been 880 ft. lbs.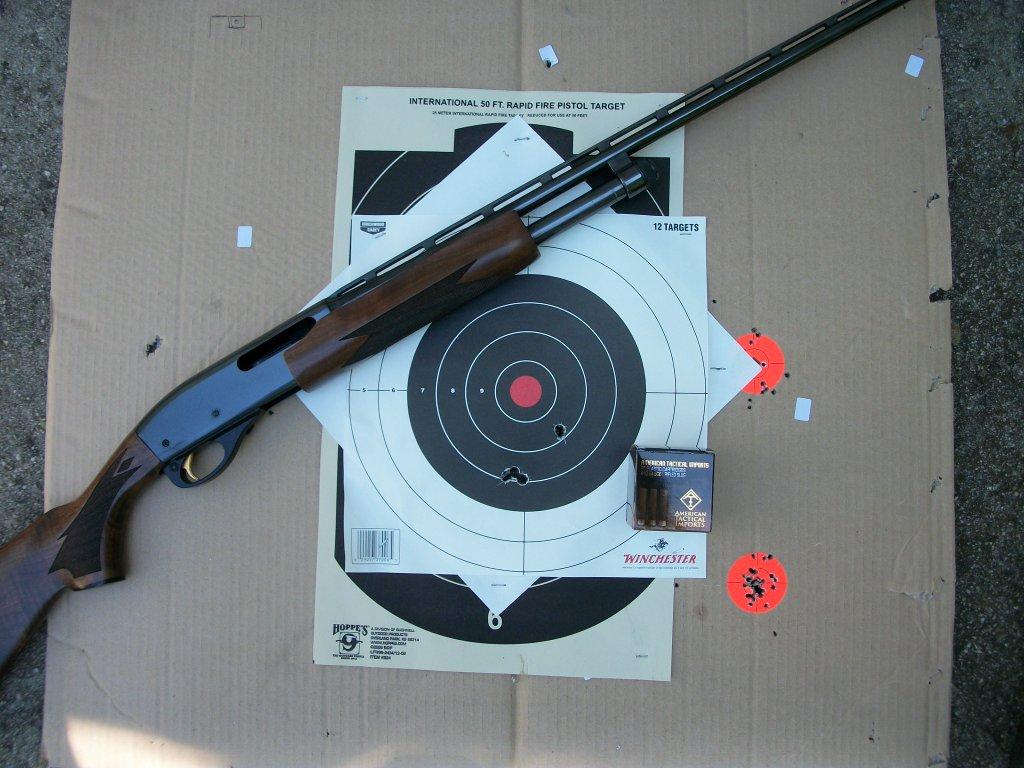 The three shots went under 2 inches at 25 yards with just bead sights. My target was a little disconcerting as it had four (4) clearly defined holes. I am certain one of the holes was caused by the one-piece plastic wad, but I do not know which one. In any event, all four holes made a group just two inches center to center.
Recently I ran some unrelated tests involving shooting a one oz. 12 gauge Remington Foster slug and a 5/8 oz. 28 gauge Brenneke slug into some white pine lumber, scraps of 2 X 4s that I had. An American 2 X 4, when dressed, is 1 ½ inches thick. Each of those two slugs had penetrated three of the boards. Neither slug exited the third board, but had completely penetrated it and stopped against the fourth board. Thus, total penetration in white pine of each of these slugs had been about 4 ½ inches.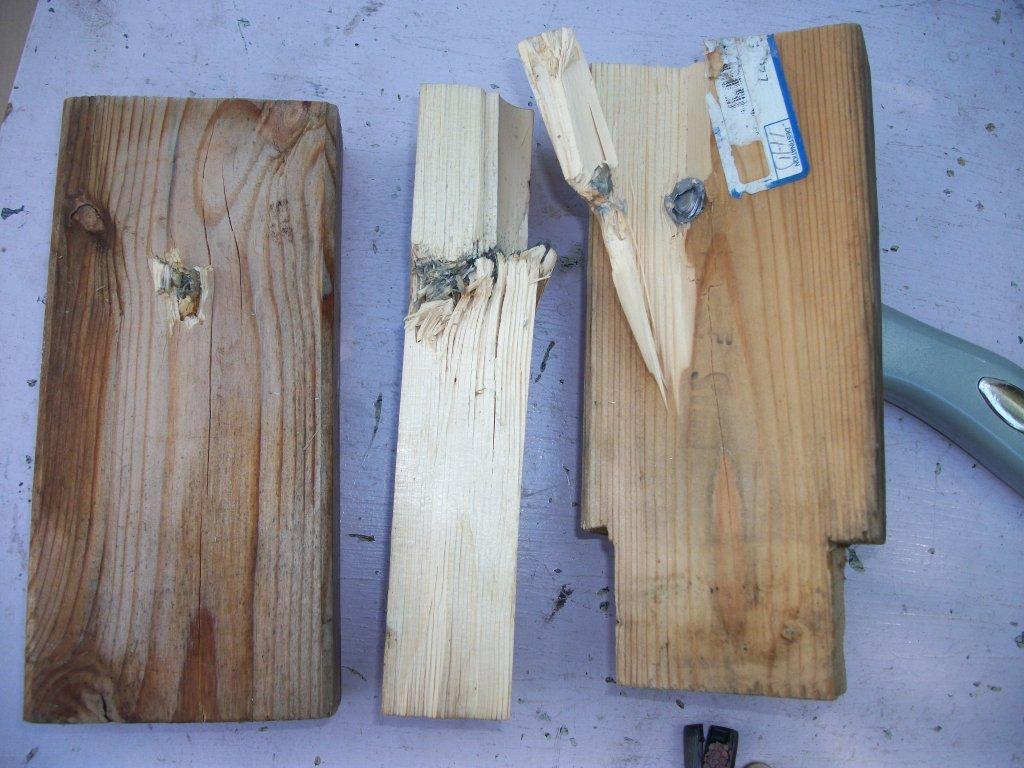 I had a few scraps left so I repeated the test with the ATI .410 slug. I expected the smaller lighter slug to penetrate less, but it came remarkably close, penetrating 2 ½ of the boards or nearly four inches of white pine.
I am very favorably impressed with these little slugs. They deliver at least as much energy as any other available .410 slugs, accuracy appears to be quite good enough for hunting at moderate ranges, and penetration is adequate for many larger species of game.
Few American commentators have anything but disdain for .410 slugs, but few can say they ever shot a .410 slug at anything, even a target. In contrast, I have a friend who has been disabled by a stroke to the point that he can no longer hunt with traditional deer rifles and shotguns, but continues to hunt deer with a .410. He keeps his shots under 35 yards and knows where his gun shoots at that range. Over a period of ten years, killed more than 20 using the little slug and all were one shot kills.
I do not recommend .410 bore slugs for hunting big game, and if I were going big game hunting, I would use a bigger gun. Nevertheless, I always carry a couple of .410 slugs when using a .410 bore gun to hunt small game and birds during the overlapping deer season. If I were to see a deer close enough to surely place a .410 slug in the proper area, I would be confident of the results.